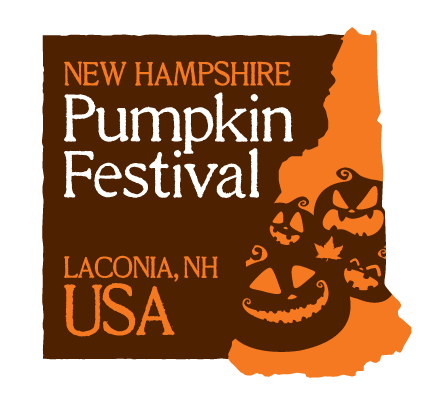 New Hampshire Pumpkin Festival


Saturday, October 29, 2022
10am - 7pm


in Downtown Laconia



saturday October the 29th
Pumpkin Displays
Mainly Jack-o-Lanterns
Rotary Park School Pumpkins Display
Drop Off Your Carved Pumpkin OR
Paint a Pumpkin
​
PumpCANALly
featuring Children's Programs, Kids Games, Face Painting, Activities, Pumpkin Bowling, Exhibits & More
​
Food Vendors
​
Riverside Duck Derby
in the Winni River
Sponsored by the Belknap Mill
Craft & Artisan Show
Offered by
The Great New England Craft & Artisan Shows
​
​
PUMPKIN PALOOZA CORN HOLE TOURNAMENT
featuring up to 30 teams!
​
Kid's Climbing Wall & Inflatable Fun
featuring Vertical Entertainment
​
Rock N Roll Racing
Sponsored by
State Farm, Mike Testa Agent & Lake City Autobody
THE CAKE Theatre in Veterans Sq
Recycled Percussion will take the stage TWO times
during the festival along with a costume contest & more!
Live Music
Lakes FM Rotary Park Bandstand
Hector's Spirit Stage
​
Children's Costume Parade
Sponsored by
Meredith Village Savings Bank
​
Jack-o-Lantern Lighting Begins at 4:45 pm
Sun Sets at 5:41pm
​
Zombie Walk at 6:30pm
Get your Zombie on! Show off your Zombie Garb. Join 104.9fm The Hawk in front of Defiant Records & Craft Beer for a little Thriller. Stroll over & meet some of the lurkers, creepers, geeks, monsters or roamers to join the walk! With a Special Appearance By...
The Wicked Witches of the Lakes Region
Sponsored by
Granite State Credit Union
​
Colonial Theatre on Main Street
Presenting Halloween movies & more
​
Pumpkin Dump Derby Begins at 7:15pm
​
​
​
​
​
​
Koung Sushi Mart
Defiant Records &
Craft Beer
Whippletree Winery


Fireside Inn & Suites


WB Media


Hector's Fine Food & Spirits


Lakes Region Rotary


Lighthouse Title & Closing Services


Braucher & Associates


Hayward Log Homes


Cross Insurance


Wireless Zone Verizon Wireless


Minuteman Press of Plymouth


Laconia Housing Authority


The Home Beautiful